The Bear Cub Bakers: Delectable New Book Invites Children to a Bake-Off, Bear Style!
Caroline Baxter and Kathi Ember's 'The Bear Cub Bakers' is an adorable and heart-warming new children's book that mixes together story, imagination and real-life baking as the ingredients to an adventure young readers will never forget. It's time to join six energetic bear cubs at Miss Betsy Bear's School, for a baking challenge that also results in children getting their fingers doughy in the kitchen. And the recipe at hand? Bear buns, of course!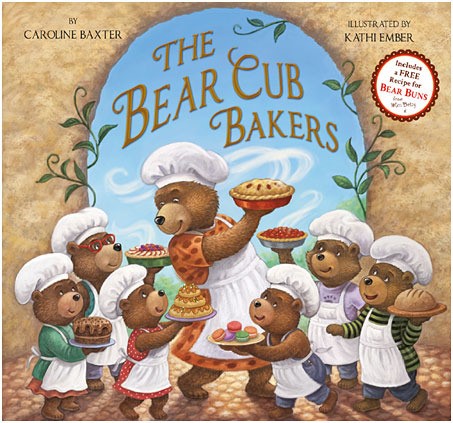 Nobody will deny that hit TV programmes such as 'Masterchef' and 'The Great British Bake-Off' have rekindled the nation's love for getting creative in the kitchen. In fact, what was once considered an old-fashioned pastime is now a weekly staple for families from coast to coast. And, according to a new book by Caroline Baxter and Kathi Ember, the same can also be said in the bear world!
Their tasty new creation, 'The Bear Cub Bakers', invites little ones to don their aprons not only to enjoy a compelling adventure, but to serve up their own batch of "bear buns" in the real-world.
Synopsis:
Join in the fun as six adorable bear cubs enjoy their own bake-off in the cosy surroundings of Miss Betsy Bear's school. In one busy week with their teacher, the bears all learn to bake lots of tasty treats – with a few mishaps along the way! As their baking progresses, discover who wins the 'Best Baker' award and try out our special recipe for little bakers at home. This delightful rhyming story by debut author Caroline Baxter and children's illustrator Kathi Ember draws on the growth in popularity of home baking to inspire parents and their children to get creative in the kitchen. An entertaining, beautifully illustrated picture book that will be loved by children and adults alike.
"It's easy to see from popular culture that baking has literally cooked up a storm in the eyes of the British public during the past few years. I really don't think this book could have come at a better time!" explains Baxter. "What we wanted to do was create a vivid and beautifully-illustrated story about baking, which also crosses over into the real world with a simple recipe that young children can then make with their parents. We've also focused on the sounds of the busy kitchen which, for this age group, can really bring a story to life."
Continuing, "The book is suitable for toddlers and pre-schoolers, and we hope it ignites a lifelong passion for baking. It's the perfect time for a book like this to hit the market and its commercial appeal is boundless."
Baxter was thrilled to collaborate with Kathi Ember to turn her story into a classic-style picture book, through stunning illustrations.
"Kathi hails from Pennsylvania and, in the opinion of many, is one of children's literature's finest unsung heroes. She took my little bears and their story and brought it all to life in a way that will engross the attention and imagination of any child. It's time to get into the kitchen – because a bold adventure is waiting!"
'The Bear Cub Bakers', from Big Sunshine Books, is available now
Amazon – http://amzn.to/23ZcnQh
Waterstones – http://bit.ly/1qPPk8G
Hive – http://bit.ly/1SpSRVZ
Book Depository – http://bit.ly/1QyAtV5
Wordery – http://bit.ly/1SxEOtT
Foyles – http://bit.ly/1VUHeIX
About the Author:
Caroline Baxter lives in Oxford, UK with her husband and two young children. From an early age she always had her nose in a book – and now does so for a living! An English Literature graduate, she has held a variety of senior management roles at UK universities, including most recently at the University of Oxford. 'The Bear Cub Bakers' is her first book. Her second, 'Pilot Jane and the Runaway Plane', will be out later this year.