In the February 2009 issue (110) of the Webmag we published a piece by Isla describing the planning and fundraising needed to arrange for a school party to visit schools in Namibia. The visit has now taken place, and here is Isla's account.
Namibia – 09
After a long wait and a lot of preparation on the 12th of July 2009 I finally embarked on a tour of Namibia – an unforgettable month, an experience worth everything.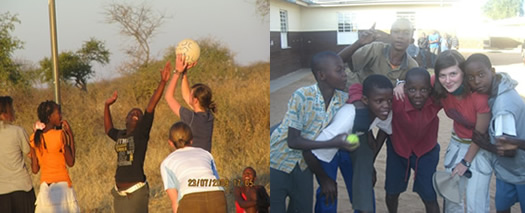 Our first stop was 200km North of Windhoek, the capital, close to a small town called Okakarara. Here we stayed at Waterburg Secondary school, the leading school in the area. It was a boarding school and the 'learners' only returned home once a month. It was a friendly school but it seriously lacked facilities; the classrooms were deeply in need of assistance and the furnishings were limited and by no means sufficient for the size of classes.
We therefore spent our 10 days there renovating the classrooms; this involved sanding, painting, and tiling. We worked long days and as we camped virtually adjacent to the school we didn't waste time travelling each day. We had been shown by one of my friend's parents how to tile before leaving the UK so this helped, although it was still quite a challenge laying a classroom floor. This took up most of our time but we also managed to fit in playing sport with the kids who we got to know well.  The help we gave was warmly received and greatly appreciated by the teachers and 'learners' alike, this made this section of our trip very fulfilling. They gave us a very friendly farewell and I'm pleased to say we were able to leave behind spare materials and lots of school stationery (donated by our school friends and teachers back home).


From Okakarara we had a short drive to Waterburg plateau where we completed our trekking phase. We had to be self sufficient throughout our 4 day trek and spent our nights in open mountain huts – unexpectedly the nights spent in these were some of my warmest! The plateau was populated with white and black rhinos which we were fortunate enough not to come across, although we did find a 5m Bowan skin which had been shed uncomfortably close to our camp.

We travelled further north to Etosha National Park where we were lucky enough to see the Big 5; Elephant, Zebra, Lion, Rhino and Cheetah  along with Gemsbok, Springbok, Kudu etc.- perhaps one of the best parts of the trip. Daytimes were spent on game runs in our truck, evenings were spent at the waterholes watching for the wildlife.
It was not long and we were travelling again. We spent a day with the Himba Tribes on our way to Swakopmund. They showed us their way of life, from their dress to their food; their whole culture.

Once in Swakopmund our relaxation included having a much needed lie in, games at the beach and Sand Boarding down some of Namibia's finest dunes.

Following an extremely enjoyable stay in Swakop Lodge we travelled to Namibgrens where we stayed at the guest farm. From here we did a day trek and several summit climbs which had amazing views.    To put an amazing end to the month we climbed Dune 45 for sunrise on our penultimate day and enjoyed the finest meal of the month on the last night which for me consisted of Ostrich, Oryx, Zebra and Kudu – all very yummy!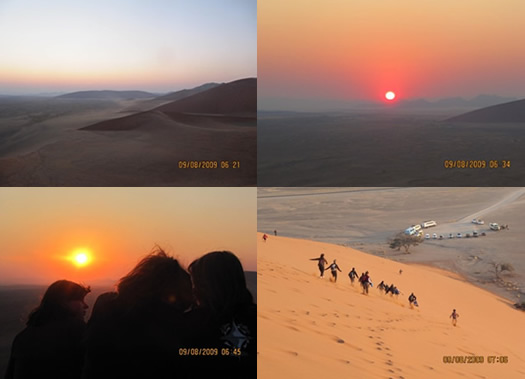 After more than a days worth of travelling we landed at Heathrow, all extremely tired but buzzing with the adventures that we had experienced in the past month.
I thank you for your contribution to my trip, without it none of this could have been possible. As you can see I've had a trip of a lifetime but more importantly I think we've made life a little better for the community at Waterburg Secondary School.
Isla Mitchell – Aug 09