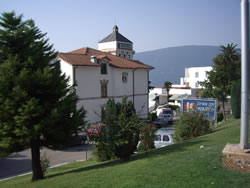 Anton Tobé travels widely in South Eastern Europe, partly in his role as Vice President of FICE, and in this account of his visit to Montenegro, he reports on an innovation that meets many needs at the same time.
The country
No matter which Balkan country you travel through, you will always find nature to be beautiful and often pristine. Essentially, south-eastern Europe has everything: sea, beaches, forests, but also plains.
The smallest country in this area is certainly not the least! Montenegro (=Black Mountains) was until recently constituted as a republic together with Serbia, but since 2006 it has taken its destiny into its own hands following the decision of its population to do so by a small margin. It is a beautiful country; four-fifths consists of mountainous countryside, and in size it is only a third of the Netherlands. It sits directly by the Adriatic Sea and has a splendid climate.
Each Balkan country has its peculiarities. Montenegro certainly takes a special position: somewhat opinionated, a little lazy (according to neighbouring countries) and since the introduction of the Euro this has been the national currency. Its population numbers almost 700,000 and the capital is Podgorica, formerly known as Titograd.
Child care services
There are five youth care institutions, often dealing with mildly or severely disabled youngsters. Bijela boasts one large children's home, Dom 'Mladost', with a whopping 170 children that we would call "normally abled children" between the ages of 0 and 18 years old. This house, which I visited recently, is situated directly on the seafront and basically it is a traditional children's home with relatively many young children and babies, mostly given up by young mothers.
The main worry is that virtually all these children will have to remain in the children's home until they are 18 because their parents have not given their consent for placement in a foster home. People are very tourism-focused and every available room is rented to holiday-makers bringing in Euros. Consequently there is no foster care to speak of in Montenegro, as well as a lack of support systems or benefits.
Turning a problem into an opportunity
The children's home has taken advantage of this, and not only does it makes part of the home available in the summertime to other youth care institutions in Europe for their holidays, but it also runs its own hotel, managed by youngsters from the institutions! They receive practical training given by several professionals and are employed in every department of the hotel, ranging from the launderette to the reception, waiting and the kitchen.
The hotel is in compliance with all the Western European standards and it looks impeccable. Along with other colleagues, the Board members of FICE South-Eastern Europe were guests at the villa, which has been converted into a hotel with excellent conference facilities. The young staff performed excellently and proved to be very service-oriented. This way, youngsters coming out of youth care are prepared for a job in Montenegro's thriving tourist sector.