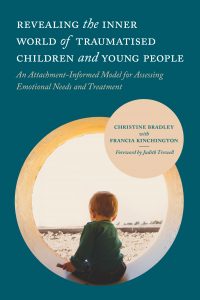 This book is a consolidation of Christine Bradley's 40 years practice in therapeutic work with children and young people, starting from a period when there was room for creative thinking within the work.  For the past three years Christine has been re-writing the concepts she used in her work to fit in with the current trends and concepts of 2018.  Her view is that we need to be working towards building a 'bridge', bringing together the inner world of the child and their ability to function and be creative in the external world.
Christine Bradley draws on her lifetime of experience of working with troubled children to demonstrate the continuing value of psychoanalytic insight today. Her messages, particularly of the importance of good quality supervision and consultation, needs to be read  by all those who are responsible for children in public care.
John Drew, former Chief Executive of the Youth Justice Board.
For all of us an integrated and coherent sense of self embedded in both history and experience is fundamental  to who we are. For some young people, there is a serious challenge in being able to answer this question when abuse, neglect and trauma have invaded their lives.  Throughout a lifetime of experience in this book Christine Bradley sets out how these issues might be addressed to re-build a sense of self that is sustaining and meaningful and above all humane.  Nothing could be more important in addressing the current issues for professionals in seeking inspiration and hope in the work that they do.
John Simmonds. OBE Director of Policy, Research and Development Coram BAAF.
This very special book sums up the learning and deep insight from a lifetimes experience in helping some of the most deeply troubled children and young people in the country. It is packed with fascinating vignettes and case studies, and will  be immensely useful for staff and students working with traumatised children and their families in a wide range of settings.
Adrian Ward /formerly of the Tavistock Clinic and author of leadership in residential care, A Relational based approach.