It's a dark winter's night and a scruffy black cat arrives on an old lady's doorstep.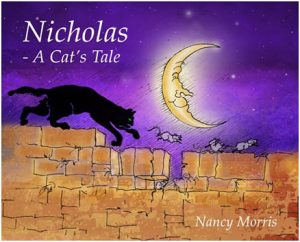 Named Nicholas because he arrived at Christmas time, he soon makes an impression in the neighbourhood, his bedraggled looks belying his mighty skills as a mouser. Soon, his many exploits are greeted with grateful thanks and much amusement, until, one moonlit night down on the farm, his life takes a very dramatic turn.
The setting is '50s Yorkshire and Nicholas has a story to tell and lessons to impart. Nicholas teaches us about fear and loss, courage and hope, and the love that community spirit can bring.
Inspired by real events in the author's childhood, the story was first written over thirty years ago as part of a school assembly. It later transpired that the tale fitted in with the ancient Irish seanchai tradition. Here, an animal will 'lead the way' in a story: there is usually more than a hint of morality, some homespun wisdom and a little bit of 'magic'! Whole families gathered around to hear these tales so they were intended for young and old alike.
It is a short story, fifteen minutes in the telling, that can easily precede a class discussion, or agreeably round off the school day, or bring comfort to those who are bound to their beds or institutions.
With its strikingly colourful cover, the black and white illustrations have enhanced the story with their detailed insights and deft touches of humour. In addition, the designer has been exceptionally creative with the use of black and white text, making for an absorbing read!
All in all, a book to be treasured by young and old alike.