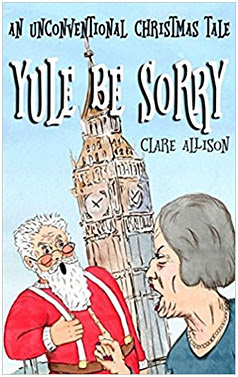 Clare Allison's 'Yule Be Sorry: An unconventional Christmas tale', written for children aged nine and over, fuses a heart-warming new festive story with adventure, villains and even a humorous political undertone. The evil Mrs Highbourne sends her timid young assistant on a dangerous journey to deliver a letter.  Santa is banned from Britain.  People organise protests to save the holiday season, while smugglers sneak up beaches to foil her plans.  It's unlike anything else on the market, with one critic recently writing, "A must read book, funny and laugh out loud".
"We wanted to give people a story that contains all of the Christmassy hallmarks they crave, while also breaking free of the mould with something totally new and original. We think we found the sweet spot – by capitalizing on Christmas's best staples, with a message that shows how any problem can be solved when people join together."
Say the authors.
"Society and our world are rapidly evolving – and the story plays on this very closely. It's up-to-the-minute and boldly addresses with wit and humour a number of issues we're facing in our country right now. Plus, feedback has been outstanding!"
Indeed, the volume has been received with critical acclaim. For example, Helen Guest comments:
"I bought this for my granddaughter and thought I would take a quick look myself, and just kept reading, so I had to buy another one! It is a laugh out loud book, and I really enjoyed it even though it is a children's book. My granddaughter has it now and she is loving it."
Another reader adds
"I stayed up late last night to finish the book, then went to bed with a lovely warm feeling in my heart. Well written and paced. Very witty throughout with some really hilarious bits. I was smirking with the staff by the end of the book."
'Yule Be Sorry: An unconventional Christmas tale' is available here.
For more information, visit the authors' official website: http://clareallison.com.