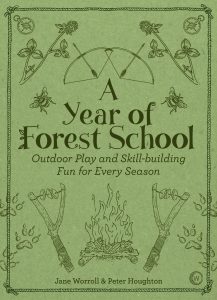 A mud cake made from earth and water, decorated with nature's gems – fallen petals, leaves, sticks and stones and forest egg hunts with golden tickets hidden in nature . . . By engaging in this sort of Spring active free play, children become fully immersed in and connected to the environment, developing both physically and cognitively to better understand, interact with and navigate the world around them.
On May 17th, authors and Forest School leaders Jane Worroll and Peter Houghton are bringing out A Year of Forest School, which follows on from their bestselling Play the Forest School Way which sold 10,000 copies. Written by qualified Forest School Leaders,the book is packed full of brand-new games and survival skills that connect with the natural cycle of the year. Come rain or shine, this book will get kids playing outside, developing new skills and discovering the wonder of nature across all the seasons! Written for parents, teachers and anyone else who wants to try out Forest School activities.
While the outdoors may seem like a dangerous option these days, it's a lack of outside activity that is the primary cause of obesity – one of the biggest threats to the health of our children today. This loss of freedom to roam, coupled with the increasing pressures on children such as target-driven school life, 24-hour social media and, for those in the city, cognitive fatigue from constant urban stimulation, has also resulted in serious mental health issues arising among 5–16 year olds.
Studies have highlighted a multitude of health benefits to being outside: sunlight and soil micro-organisms boost the body's levels of serotonin, the chemical linked to feelings of wellbeing, while Vitamin D, essential for bone and muscle health, is also provided by the sun's rays. At Forest School, children run and make a noise, get their hands dirty and are exposed to manageable risk (essential for healthy development).
The book is available to pre-order or buy here