Free Yourself, Find Joy and Build True Self Esteem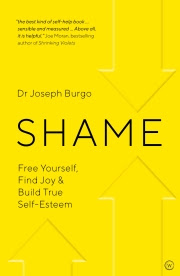 An empowering look at the shame experience which is universal, misunderstood and frequently rooted in childhood contains an important lesson about who we are or the person we'd like to become which if we resist, we lose an opportunity to grow.
Most people think of shame as a toxic emotion inflicted by abusive parents upon their innocent children or imposed by an intolerant society upon those who differ from the norm. In Shame however, Joseph Burgo will introduce us to the entire shame family of emotions (including embarrassment, guilt, regret and self-consciousness), which are often overlooked and unavoidable aspects of everyday life and not always toxic. Burgo argues that all humans tend to experience shame in four common situations, which he refers to as the Shame Paradigms. These are
Unrequited Love – when our interest in and affection for another person is not reciprocated
Exclusion– when we feel we're on the outside of a group to which we'd like to belong
Unwanted Exposure – when something personal we'd like to keep private is unexpectedly revealed
Disappointed Expectation – when we fall short of our goals or expectations for ourselves, or of the people we respect.
Human beings everywhere, in every culture and on every continent in the world over, experience shame in exactly the same way: gaze aversion, brief mental confusion, and a longing to disappear, usually accompanied by blushing of the face, neck, or chest. These emotions may be mild, fleeting, and soon forgotten; or they may be deep and enduring, haunting us for days. In fact avoidance, denial, and control are the primary strategies we use to mask and mitigate our exposure to the pain of shame.
Shame is richly illustrated with clinical stories from Burgo's 35 years in private practice and contains a Shame Awareness Survey for the reader to test where they are on the shame spectrum and Burgo offers a new, positive route forward.  Indeed he argues that self-esteem does not thrive in the soil of nonstop praise and encouragement, instead we need to listen and learn from our encounters with shame, develop healthy pride in our achievements and courageously challenge the shame that drove us into isolation in the first place.
Shame is a deeply inspiring and multi-faceted read, and one that brings hope and results.
You can order the book on Amazon here.
Biography
JOSEPH BURGO, PH.D. has been practicing psychotherapy for more than 35 years. His articles and commentary have appeared in The New York Times, The Atlantic, The Washington Post, and other major publications. He also writes a blog on the topic of shame for Psychology Today and covers personal development issues from a psychodynamic perspective on his personal website, After Psychotherapy. He is the author of Why Do I Do That? and The Narcissist You Know.