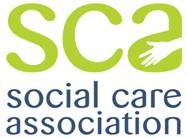 At the end of their qualifying training in 1949, a small group of residential child care workers, known then as house parents, decided to form an association that would help them to keep up to date with best practice, to develop a network of mutual support and advice and to write down the best practice advice they generated from their friendships. Their motivation was to ensure the best possible care for the children for whom they were responsible, and it is thanks to them that the Social Care Association exists today. Kathleen Lewis, our founding Secretary, and several other founder members graduated in Cardiff and in their honour we will be returning there in March 2009 for our 60th Anniversary Seminar.
At the first AGM in 1950, it was decided to rename the organisation the Residential Child Care Association and most practitioners in the service knew RCCA and many were proud members. In the 1970s, the National Association for Heads of Community Home Schools became members and later an association for workers in the residential care of adults with mental health problems also amalgamated.
Following the introduction of Social Services, the arrival of the heads of older peoples homes necessitated the change to the Residential Care Association, and when workers from non-residential settings joined, the present name of Social Care Association was adopted.
In 1984, Inspection and Registration Officers were instituted and they joined SCA as an independent (not private!) organisation that could support them in the pursuit of best practice in care settings. In the same year, BADCO, the British Association of Domiciliary Care Officers, aligned with SCA with membership for all of their members. In the 1990s both organisations left for an independent future.
During its existence, SCA and its forerunners has been involved in all key policy activity as a critical friend to Councils, Governments, organisations and other interested bodies. We have been proud of the work of our Members who over the years generated material for use by other care workers, freely and at no cost for the simple objective of promoting best practice.
Three Offers
* If you were one of the Members who helped SCA be influential – thank you! We are looking for contributions from former Presidents and Members for our 60th anniversary book and would welcome donations of up to 500 words for consideration.
* If you want to be a future guardian of good practice, join us! If you want to know more, visit us at www.socialcareassociation.co.uk call us on 0208 949 5837 or email [email protected] .
* If you think you might like to come to the seminar in Cardiff, see the website for more information or give us a call for more details. Claire Tickell, CEO of Action for Children (formerly NCH) will be speaking, among others. Her presence will acknowledge the contribution to the Association made by staff at NCH and other national charities for children who have given great support to the formation and development of SCA.
Nick Johnson is Chief Executive of the Social Care Association.