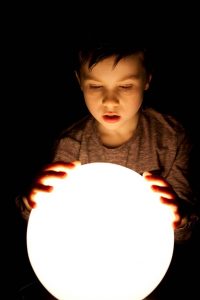 Illuminate their imagination at Winchester Science Centre and Planetarium this February Half Term with an enlightening extravaganza all about the brilliant science of light.
Running daily from 10 – 27 February (10am to 5pm), the Science Centre will have a bumper programme of live shows, demonstrations, busking activities and lots of hands-on fun to illuminate inquisitive minds.
This year there are two full weeks of Half Term activities – half term dates are split between counties, giving an opportunity to visit while children in neighbouring counties are at school.
A live presenter-led science show, Brilliant Light, will take the audience on an exciting journey through the science of light. Spectators can expect to be wowed by lasers, intrigued by new unseen worlds and get involved with lots of opportunities for audience participation. The 30 minute show is free with General Entry, suitable for all ages (best for 5-12 year olds), and will run daily in the Space Marquee at 11am, 12pm, 1pm and 2pm.
The Centre's Science Communicators will be roaming throughout the exhibition floor with a series of amazing and interactive displays. Visitors can explore the different concepts of light, discover the secret world of fluorescence, experience the incredible rainbow colours of spectroscopy and learn ways of making things disappear in front of their very eyes! Science busking activities will be available daily from 10.30am to 4.30pm.
Staff and students from the University of Southampton will also be present on select days throughout the Brilliant Light spectacular, sharing news of their cutting-edge research and how it will affect visitors' lives.
Winchester Science Centre and Planetarium's brand new zone Invention Studio will be open throughout the Half Term period. Testing visitors' inquisitive thinking, they can explore and solve a series of exciting challenges related to programming, aerodynamics, engineering and electronics, with the Science Centre's Master Inventors on-hand to help construct truly amazing creations and innovative solutions.
Visitors can also pay a visit to the UK's largest standalone planetarium, where they will be able to enjoy a special extended programme of shows, including live, presenter-led shows and 360o fulldome films every day.
Live shows include The Planet Show, where visitors will find out how to spot planets in the night sky before taking off on an unforgettable journey through a 3D virtual scale model of the solar system; and Simply Stars, a traditional style planetarium show with tricks and tips for how to find constellations and interesting objects in this season's night sky. Fulldome films include Polaris, Secret of the Cardboard Rocket and and Black Holes.
And if that isn't enough, visitors can get hands-on with over 100 interactive exhibits, including the Science Centre's Little Big Room and the Science of Sport Zone.
Ben Ward, Chief Executive of Winchester Science Centre, said:
"Our Brilliant Light activity programme will brighten up February Half Term for visitors to Winchester Science Centre and Planetarium. From live shows and demonstrations to science busking, there will be something to keep all the family thoroughly entertained. Our newly-openedInvention Studio will also provide even more practical hands-on experiences for visitors, with their ingenuity put to the test through a series of exciting challenges.

"We're also pleased to be able to offer an extended Half Term period this February, to allow for the slightly different term times across Hampshire, Wiltshire, Surrey and Dorset, so we can illuminate and inspire even more imaginations."
All activities (excluding planetarium shows) are free with General Entry to the Science Centre.
Throughout February Half Term, enjoy free parking for visitors at Winchester Science Centre and Planetarium, with a free park and ride service from the nearby Matterley Estate ensuring plenty of space.
Winchester Science Centre and Planetarium is Southern England's leading hands-on, interactive, science and technology centre with the largest standalone planetarium in the UK. The Science Centre is a self-funded, independent educational charity and relies on Gift Aid and visitor donations to stay open seven days a week.
10% online discount available on General Entry tickets when booked in advance, plus a further 10% discount when purchasing three or more General Entry tickets. visit www.winchestersciencecentre.org or call 01962 863791